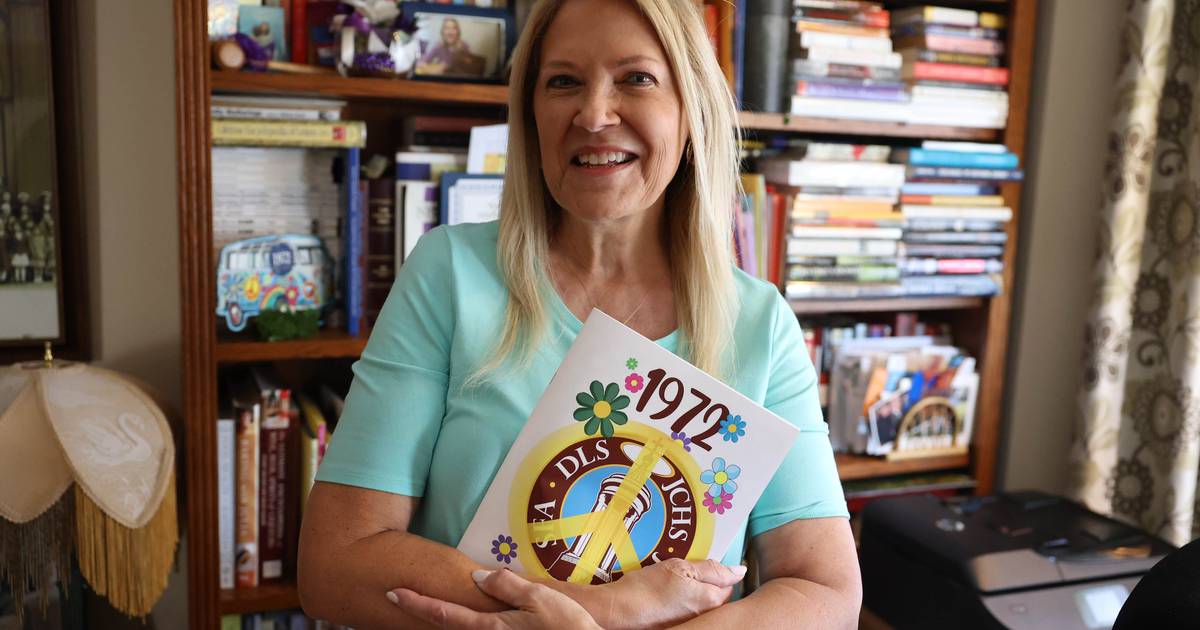 Alum Creates 70-Page Book for 50th Anniversary of 2 Former Joliet Catholic Schools – Shaw Local
Some people, especially those who are new to the area, may not know that Joliet Catholic Academy was two schools until 1990each with their own rich history, said Marianne Wolf-Astrauskas of Orland Park.
So in the months leading up to the 50th anniversary of the old St. Francis Academy (school for girls) and Joliet Catholic High School (school for boys), Wolf-Astrauskas spent months documenting the history unique of the two schools, which she published in a 70-page book.
But the reunion book was more than a history of the combined schools. It was also a directory of their classmates, with photos from yesterday and today, brief facts about their lives and their contact details.
The reunion book contained a letter from JCA President and Director Jeffrey Budz, as well as well wishes and letters from former teachers. It lists former teachers from both schools, notable alumni and notable students, trivial questions from both schools, and two memorial pages with photos of deceased classmates.
Wolf-Astrauskas also put 1972 in context for alumni by placing their senior year against the rest of the world. She included milestones in men's and women's sports, historic events, current item awards, top songs, TV shows, plays, and books.
"For me, I think there was something magical about 1972," Wolf-Astrauskas said. "I don't know if it's because it was my last year in high school. I don't know if it was because it was a leap year – 1972 was a leap year. Maybe that's why. For me, I always felt it was a unique time and place. Maybe that was the way the country was. Maybe that was how Joliet was. Maybe that was just the way we were as elders. It was another world, another time. And that was something that I felt I wanted, as best I could, to record 1972 as we knew it.
In a Zoom call in February, the reunion committee released a list of areas alumni could oversee, she said. Wolf-Astrauskas said she saw a "reunion booklet" and immediately volunteered.
"I wanted to take on the task myself," Wolf-Astrauskas said. "I am an experienced writer and I don't think a project like this can be done by a committee.
Additionally, Wolf-Astrauskas' husband, Jonas, a brain cancer survivor, is paralyzed on the right side. She likes to stay close.
"This project allowed me to be in my house and work from home at my own pace," Wolf-Astrauskas said.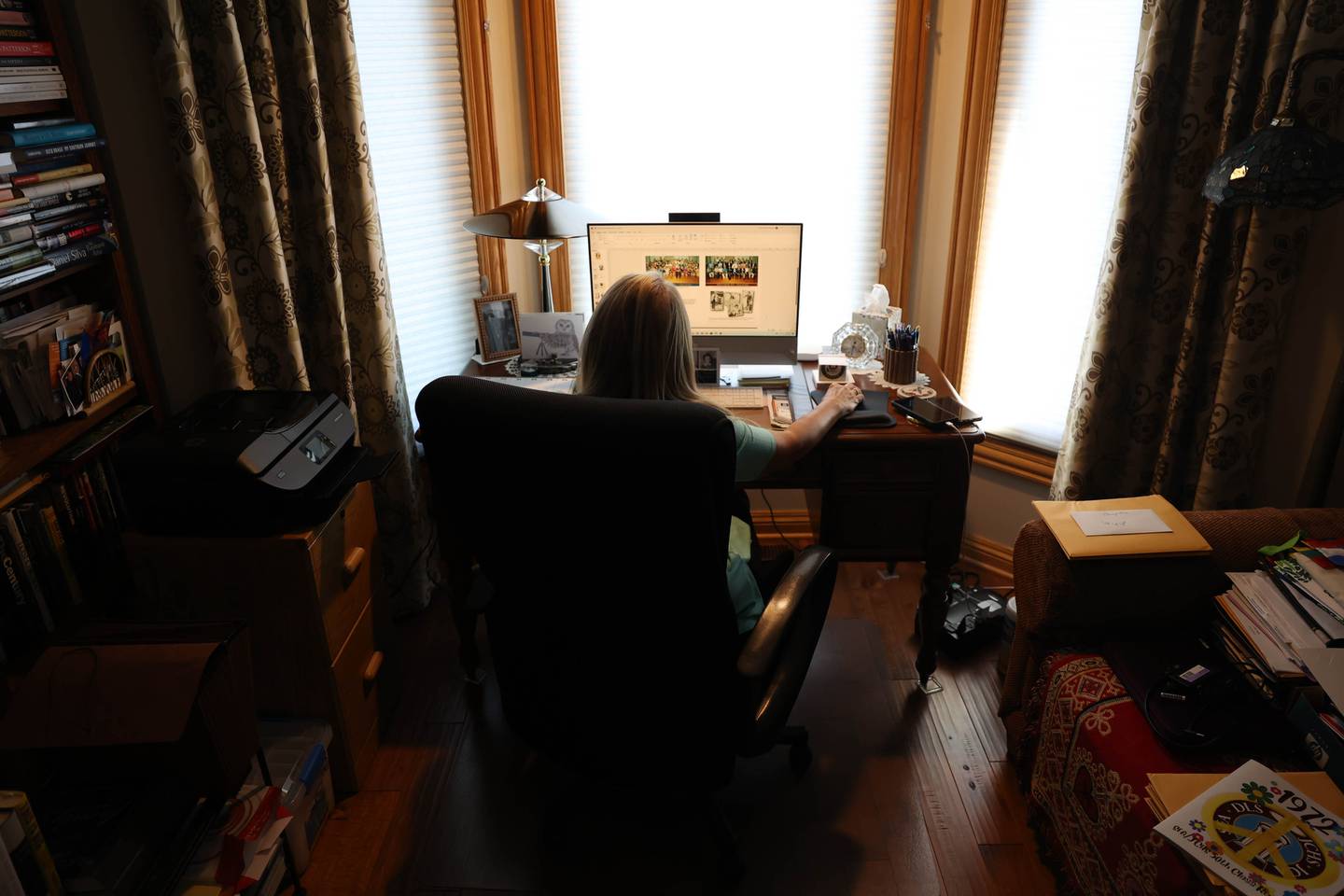 That doesn't mean Wolf-Astrauskas didn't ask his former classmates for advice. As she mentally mapped out the elements she wanted to be in the book, she devised some possible graphics for the cover and passed them around, asking for feedback.
People "overwhelmingly" voted for the daisies and the peace sign with the JCA symbol behind it, she said.
"And that really set the tone for how the theme of the book would move forward," Wolf-Astrauskas said.
Wolf-Astrauskas then sifted through his own memorabilia: yearbooks from both schools, school newspapers (The Focus for St. Francis and Victory Light for Catholic High), play and musical programs, a mimeograph sheet of the Catholic High loyalty song, offers and photos of dances and even the St. Francis de Wolf-Astrauskas uniform that her mother had reserved for her, she said.
"So when you have all those memories, it helps bring back memories and put you in the right place," Wolf-Astrauskas said.
Photos were the hardest to acquire because teenagers in 1972 did not carry cameras with them like their 21st century counterparts do.
"Nobody was walking around with cameras in their purses," Wolf-Astrauskas said. "But I had enough photos to start with."
This book was distributed to participants during reunion activities on the weekend of September 16 to September 18.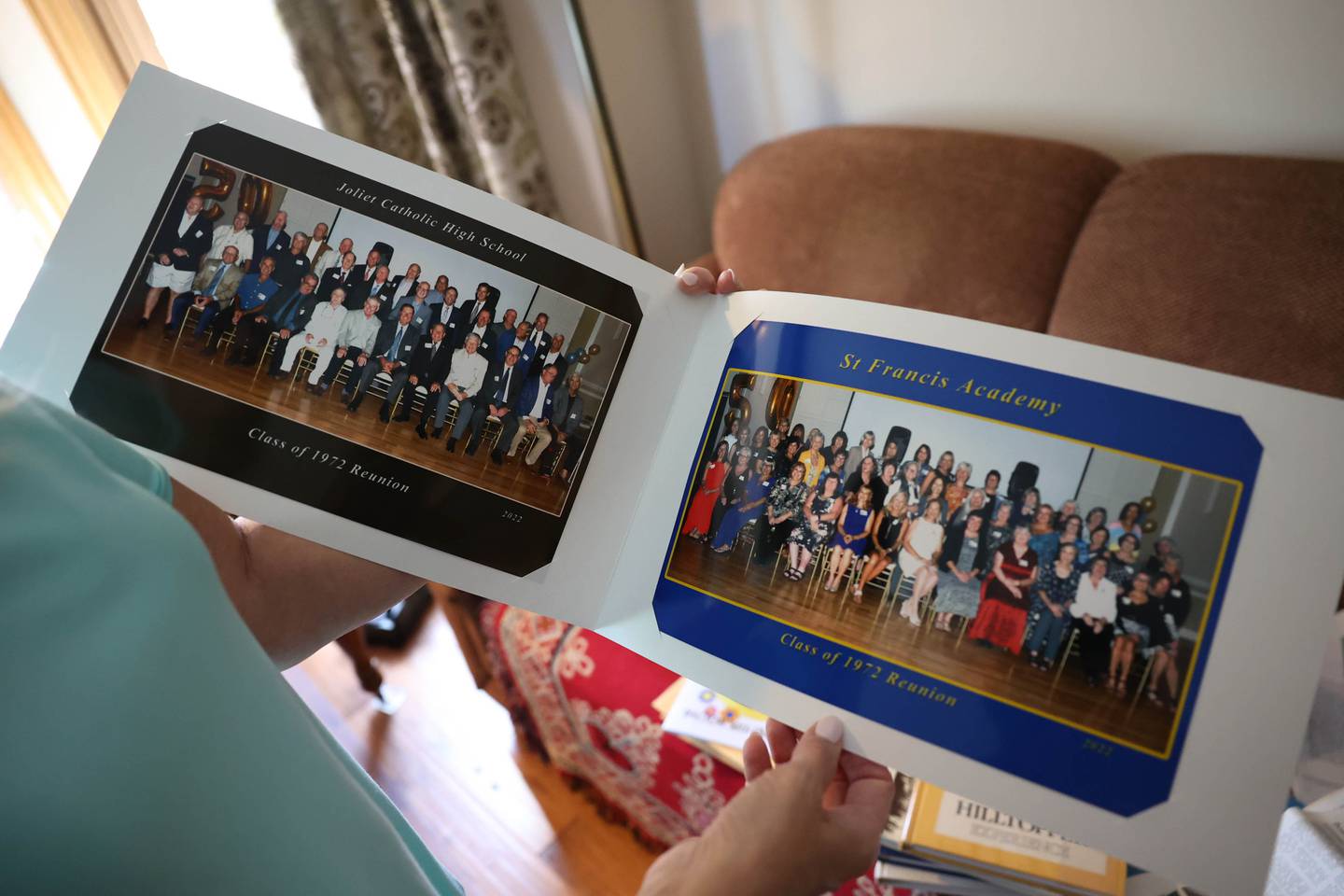 Reunion activities include a Friday night reunion mix, Saturday "Groovy Girls" lunch, and JCA tour, golf, tennis, walk/run, Joliet Old Jail tour, banquet Saturday night at the Renaissance Center with mass at St. Raymond Nonnatus Cathedral and a Sunday brunch at Syl's in Rockdale.
Wolf-Astrauskas said she received praise for her efforts. One person called the book a "treasure", she said.
But perhaps Wolf-Astrauskas enjoys the reunion book the most.
"So for me, when I watch this, it feels so good to me," Wolf-Astrauskas said. "I was from Joliet, I went to St. Francis Academy, and that's my home. And it's just something about seeing that symbol of peace and those daisies. It was just a very, very special moment. I wanted to capture that for everyone. I hoped my classmates would feel what I felt. That's why I did it.